Breakdown Of The Departmental Hierarchy
Affiniti Collect Plus manages a total credit portfolio worth over 3Bn USD, across an elite BFSI clientele. The solution's debt recovery success is integrating into the hierarchical needs of different designations across various departments.
For today's Affiniti Perspectives, we will analyse how Affiniti Collect Plus helps the credit risk department of a bank.
As you may already know, the credit risk or risk hierarchical breakdown is as follows.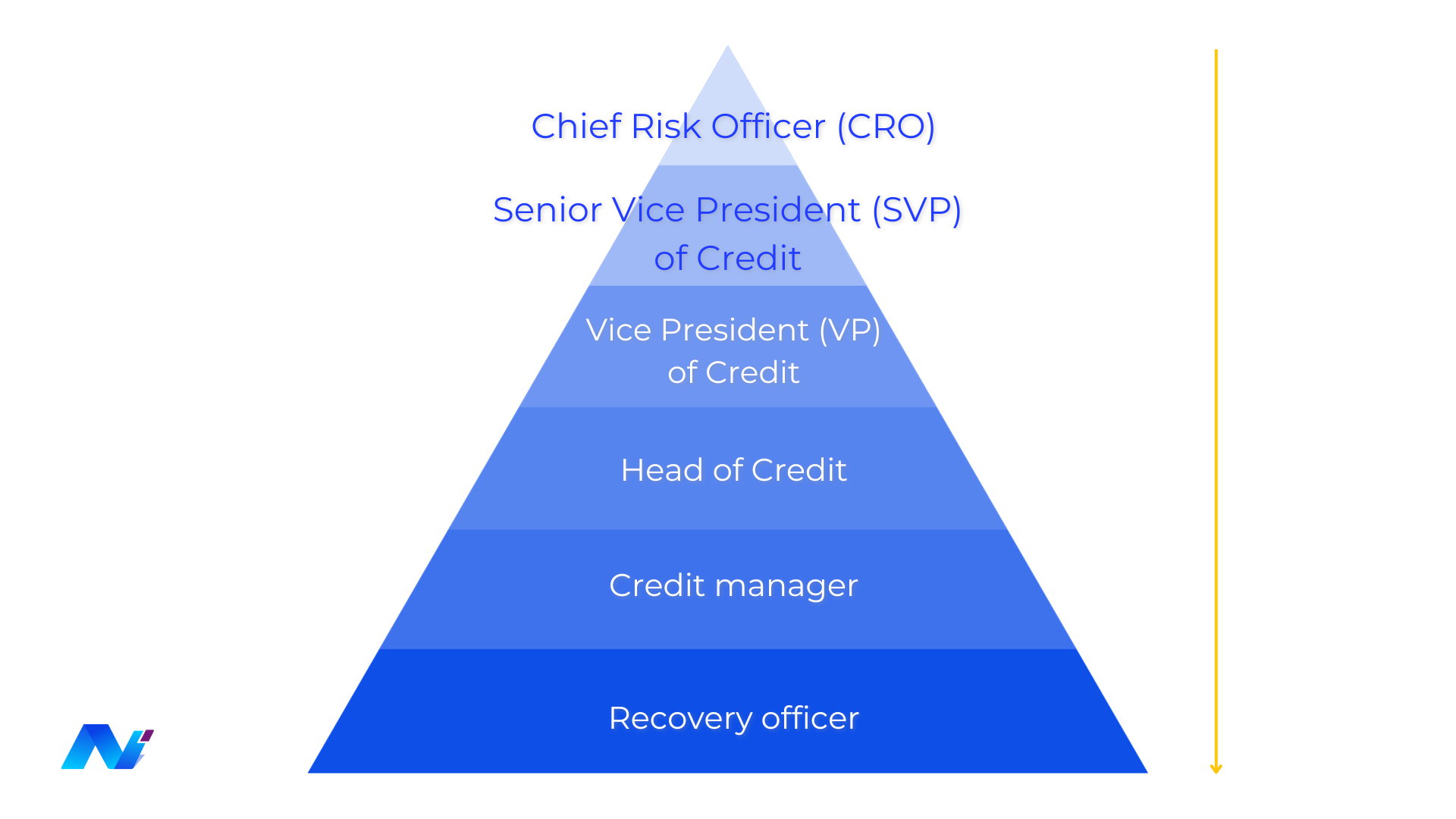 How Affiniti Collect Plus Enable Better Efficiency And Convenience In Debt Recovery
Chief Risk Officer: The CRO can use Affiniti Collect Plus to monitor and manage the overall credit risk exposure and performance of the bank. We enable it via Collect Plus across multiple 360° dashboards and comprehensive intelligent predictions that can be conveniently viewed with a single click—especially default probability, regional recovery progress, progress and creditworthiness. Collectively, the product aims to keep the CRO informed remotely by Affiniti MobileXtend on all essential trends and metrics for better and well-timed decision-making.
Senior Vice President (SVP) of Credit: Affiniti Collect Plus enables better management and oversight of the credit department and its functions by the SVP of Credit. The product allows the SVP of Credit to define and configure the business rules and workflows for the credit recovery process while lowering manual errors and delays. Collect Plus also enables the SVP of Credit to coordinate and communicate with the CRO and the other departments such as sales, finance, and operations, aligning credit activities with the bank's vision, mission, and goals.
Vice President (SVP) of Credit: The VP of Credit can use Affiniti Collect Plus to supervise and support the credit managers and analysts while working in parallel with the SVP. The product also ensures that credit decisions are consistent with the credit policy and risk appetite and that the credit processes are efficient and effective. With Collect Plus, we aim to enable a VP of credit to improve the quality and productivity of the credit team and foster a culture of excellence and innovation.
Head of Credit: Affiniti Collect Plus allows the Head of Credit to define and configure the credit policy and risk appetite for the bank, and monitor and manage the credit portfolio diversification and quality. We also aim to enable better recovery strategy development, and strategic resource allocation, and assess the progress of individual collection officers, for heads of credit by Collect Plus. Key decisions will be based on intelligent predictions, minimising bad debts, and improved recovery rates.
Credit Manager: Credit managers can use Affiniti Collect Plus to manage and lead a team of credit analysts. The product allows credit managers to allocate human resources and manage third-party collection agencies while tracking their performance aided with intelligent timely predictions. We aim to further increase the operational convenience and efficiency of credit managers with automation rules triggered by credit age buckets. It ultimately helps optimise the credit workflow and turnaround time and enhances customer satisfaction and loyalty.
Recovery Officer: Affiniti Collect Plus provides the Recovery Officer with the complete and updated information of the customers, such as their contact details, payment history, credit score, risk profile, and recovery status. Affiniti MobileXtend enables recovery officers to make decisions on the go, that records interactions and outcomes. Connected to a centralised platform, all recovery officers can instantly be updated on all administrational and strategic recovery decisions.
In Conclusion
The award-winning debt collection software, Affiniti Collect Plus, serves multiple industries; banks are one of our specialising key segments. This analysis shows the solution's capabilities that holistically improve a bank's debt recovery strategy. These capabilities have allowed our elite banking clientele to perform in a new era of real business growth.
Book an Affiniti Collect Demo—email us at sales@affiniti.biz