Affiniti Collect Plus, the award-winning collection & recovery management software ensures a smooth end-to-end intelligent management of your receivables.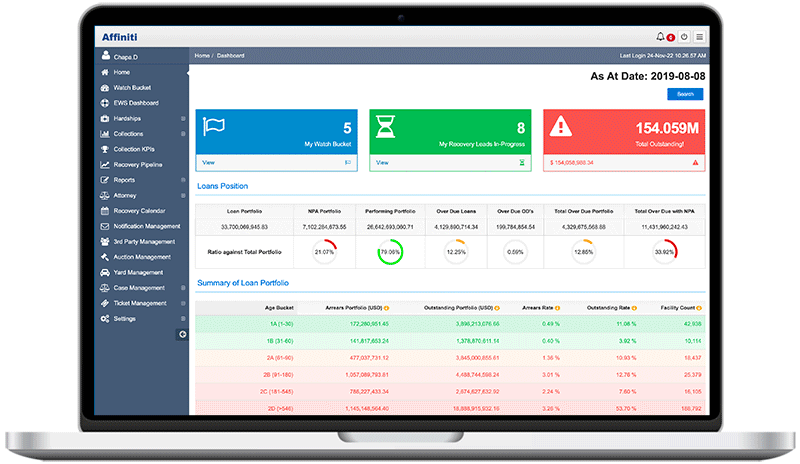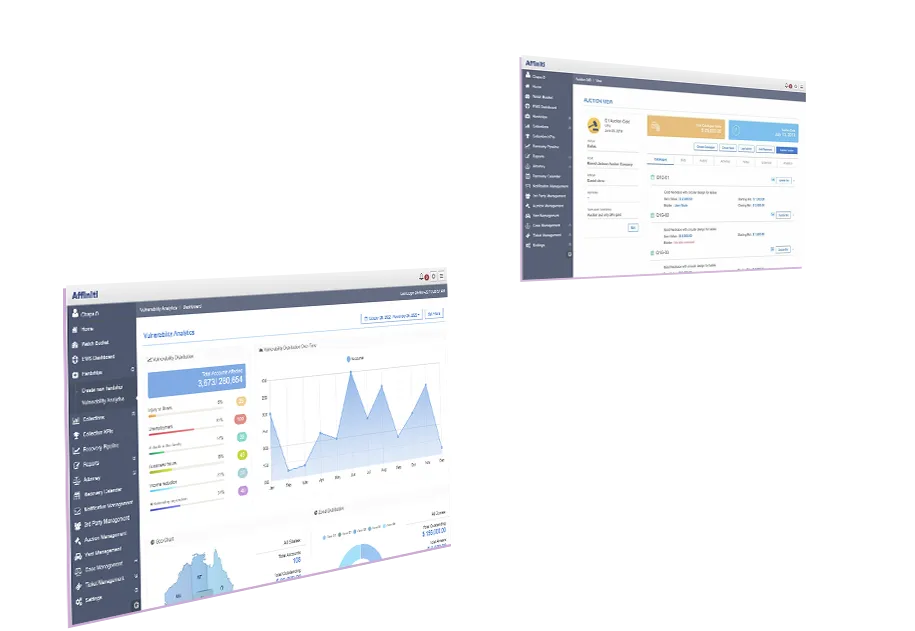 The award-winning Affiniti Collect Plus makes debt collection an easy and enjoyable task. It removes the inherent unpleasantness of the recoveries by automating the processes using cutting-edge technologies. Our time-tested solution can make a substantial difference in the quality, productivity, and profitability of your lending portfolios.
Affiniti adds value through artificially intelligent predictions to help maintain a healthy lending portfolio, manage financial vulnerabilities, and most importantly, deliver a better customer experience.
DATA CONNECTOR
Integrates with Core Banking System, Card Management System, ERP or Data Warehouse to analyse the full lending portfolio
CUSTOMER 360
Provides a 360-degree customer credit view within a single dashboard including payment history and customer scoring
RECOVERY RULE ENGINE
Automates the collection & recovery journey commencement & subsequent escalations across different collection officers & departments with strict SLA monitoring
AFFINITI MOBILE
A mobile app to carry out the collection & recovery activities in the field giving your recovery staff online real time access to the system
3rd PARTY MANAGER
Enable Outsourced debt collection agencies to receive work lists, carry out follow-ups, monitor KPls & earn commission based on periodic performance
EWS & HARDSHIP MANAGER
A framework for automated client account behavioural change identification through EWS rules & subsequently treating the customers for their financial hardships with comprehensive traceability to treatments given for hardship mitigation
WATCH BUCKET MANAGER
Manages the age bucket classification and assigns leads accordingly for prompt follow-up
NOTIFICATIONS
Sends automated notifications through diverse channels including SMS, email & letters to customers & staff to alert, remind & avoid delays
LEGAL ACTIONING
Manage the legal process from opening a legal case to scheduling a case date, lawyer management, court details with legal case history & expenses tracking
MACHINE LEARNING
Using advanced machine learning algorithms, Affiniti predicts the probability of default, hence organization can allocate resources in a timely manner
ANALYTICS
A wide spectrum of Dashboard representations & pre-defined set of reports for Top management, Risk Managers, Credit Controlling/ Monitoring Units & Collection Agents
RISK MATRIX SCORE
Analyses all delinquent accounts based on a defined set of determinants under their probability & impact to derive a risk score & subsequently lists all accounts in a risk quadrant to prioritise the collections
Our award-winning product, Affiniti Collect Plus makes debt collection easy and enjoyable. It is built to remove the inherent unpleasantness of the recoveries by automating the processes using ground breaking intelligent technologies.
Portfolio Quality Improvement